More and more educational institutions at MBO, HBO and WO are making the transition to modern forms of assessing, such as programmatic testing or Challenge Based Learning. These institutions strive to measure student progress in a structured way using multiple data points, such as test moments. This article addresses the tension between using user-friendly assessment formats and detailing progress in a dashboard within a portfolio.
The area of tension between assessment formats and progress measurement
Assessment and feedback formats are often developed so that feedback can be provided per competency, EPA or learning outcome. This leads to structured feedback that can then be used in the dashboard for specific competencies, EPAs or learning outcomes. The advantage of this method of data collection is that the assessor or feedback giver can already fill in various feedback per item. However, a possible disadvantage is that completing the feedback or assessment forms may be perceived as too fragmented.
User-friendliness of assessment formats
To be able to use user-friendly feedback or assessment formats without becoming too fragmented on the one hand, and still be able to report specifically on the other, it is possible to develop intelligent forms within Scorion. This makes it possible, for example, to provide feedback on generic items and then indicate to which competencies, EPAs or learning outcomes this data applies.
Solution for structured feedback
From the beginning of the development of Scorion, we have been working on the principle of generic feedback and specific reporting. For example, in the SURF project DINK (2010) we already developed generic user-friendly assessment formats that also allowed specific reporting.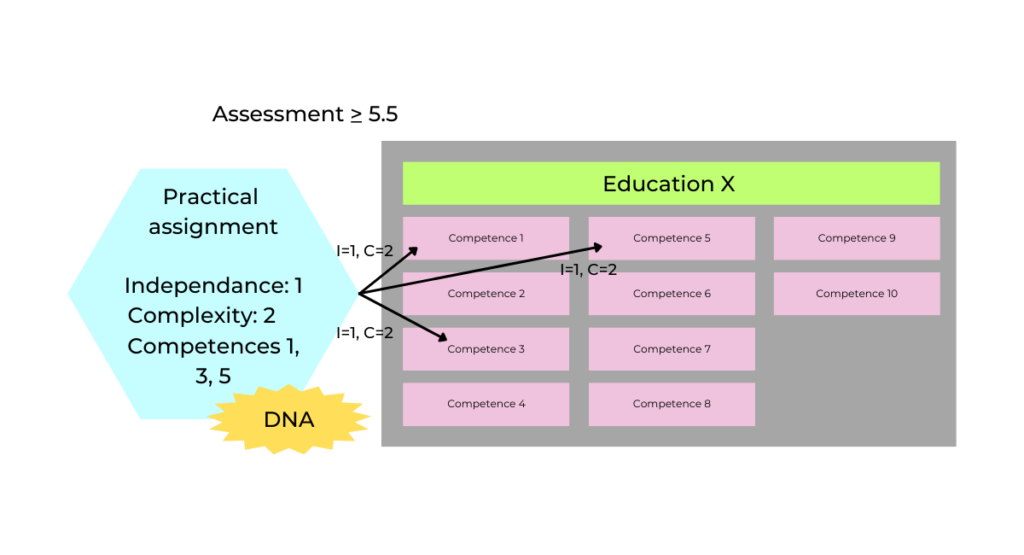 Insightful progress with Scorion
Are you interested in a demonstration where user-friendly feedback is completed while enabling specific reporting? Or would you like to discover how Scorion can help you provide insight into progress on competencies, EPAs and learning outcomes? Then contact us for more information and start realizing your educational vision today!